If you like to listen to free Internet Radio, Online Radio or Web Radio, we have the Online Radio Tuner which will
play and record your favorite radio stations and display the album art of the artist if available.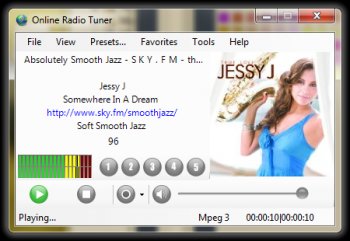 Listen! Enjoy! Record!
This programs allows you to listen to all those free internet radio stations that you can find on the net.
Enjoy the outstanding high MP3 and AAC sound quality.
Choose from hundreds of radio stations
Right from the start, you can choose from over 800 radio stations from all over the world.
Selecting stations by region or genre is supported.
Watch the CD Album Art
See the CD album art of the currently playing song.
Record it
You can record everything you hear in to MP3 files and enjoy listening to them later.
Schedule your recordings
This is handy when you want to record your favorite radio show which runs when you are not in front of your PC.
Just schedule it and let Online Radio Tuner record it for you.
Read comments for more information.
Tweet